Or the story of sneaking into one super competitive Google SERP
I came up with this post idea last month when working on two articles for two igaming publications. One was for Trafficology about SEO and linkbuilding in the modern days and if it all still makes sense, another for IGBAffiliate Magazine about small affiliates winning at super competitive SERPs and beating high budget competitors due to better use of their resources and better adjusting to the changing realisties of Google SERPs. I was putting off publishing this post as I didn't want to out anyone but now that the SERPs have slightly changed I think there is not much risk of that.
So late last year, Google has gone a bit crazy with Knowledge Graph cards in all sorts of SERPs, even those not really needing them, like this one. The main source of scraped text factual data of these Knowledge Graph cards is of course Wikipedia (now that Freebase is dead) and there's little chance for anyone to beat that. But Knowledge Base cards are often accompanied by images, and those images hardly ever come from Wikipedia with its strict copyright requirements (often resulting in lack of images for many of its articles).
Where do they come from? (And most importantly, creative SEOs should start seeing a real opportunity at this point and wonder how to become the source of these images). Why, Google Image Search of course! Typically, the image used in the KG card is one of the top ranking images in Image Search for – not even the original query – but the query in the KG card (in our above example, "online casino" rather than "online casino games"). At the time when I was working on those two articles, the image in that specific KG card has undergone a few interesting transformations. For a good while, it's been this image:
Who is the original author of this image, probably nobody would be able to determine at this point. At the time I have first noticed it in the above mentioned KG card, it was coming from some affiliate site. The site itself was not ranking anywhere visible for either "online casino" or "online casino games". Later though, I noticed a change in the source of the image – the affiliate site got replaced by a certain two-year-old press release site as it apparently either got submitted along with a gambling themed press release or has been placed into the press release by the press release site owners themselves. Of course I don't know for sure but I would speculate that whoever decided to use that image for this press release, didn't bother looking too hard and simply googled "online casino" in the image search and grabbed the first image they saw.
Why does it matter where the image in the KG comes from? – Well, because if you mouse over the image, a tooltip appears with the URL of the site the image is taken from. So a lazy move while submitting a press release to a shitty press release site resulted in beating the previous image source to what's essentially a No. 0 position in those cutthroat competitive SERPs. I am not aware of any recent CTR studies involving measurements of clicks from KG cards in the SERPs – but if I could have a placement like that for anything I care about, I'd surely take it.
Searching by image reveals dozens of instances of this same image on different sites in various sizes (some are even watermarked – I find it especially funny):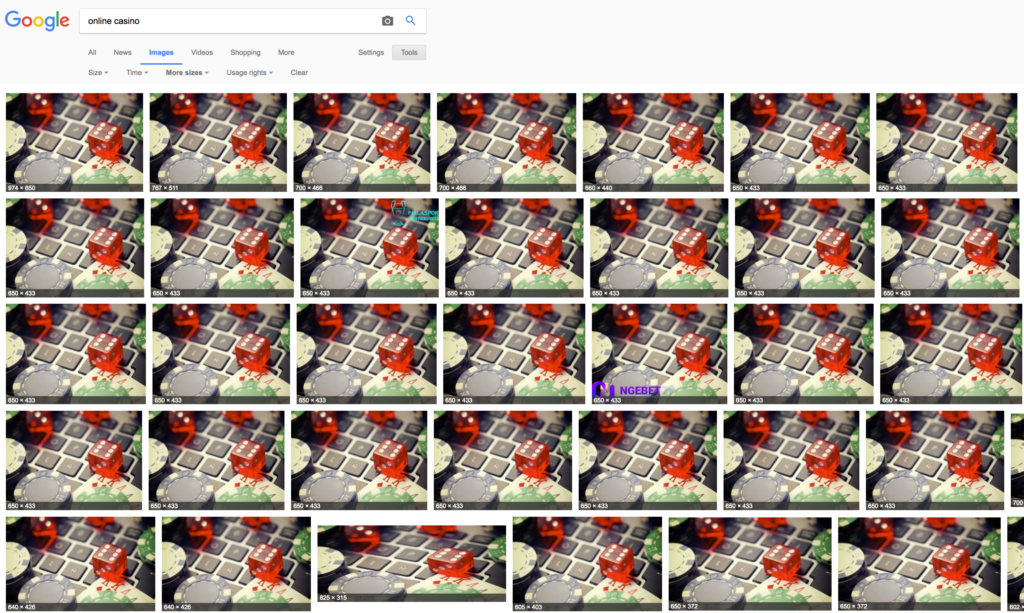 Google has always been notoriously bad at determining the original source of content so no wonder it's got all mixed up with a "popular" image like this. However, what I have observed here leads me to believe that a "fresher" instance of the same image may be all that's needed to replace a top ranking image – and all that follows. I have a few ideas of experiments to prove or disprove this and will run them to see what happens.
Now the KG card in "online casino games" SERPs has got a different image, I suspect mainly because the press release site in question has been down for some time, costing the image its top rankings in Google image search. KG cards are not the only new elements in Google SERPs making use of images – featured snippets may include images too although a slightly different principle seems to apply there.
If you have anything to add or know more about this and feel like sharing, leave a comment below.
P.S.: Ah what the heck, here is the current top ranking image for online casino in Google image search in the UK showing in the Knowledge Graph card for online casino games: