How customer experience can help drive value realization for customers.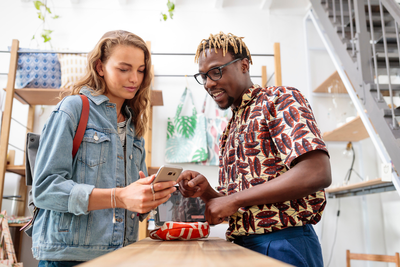 It's no secret that customer success is critical for business. With customer experience being at the forefront of every interaction, it's important to get it right every time. When striving to get it right, the focus has always been on optimizing touchpoints. Customer touchpoints matter, but they only make up individual interactions you have with customers. Some may say customer experience is the sum of all customer interactions, which is also true. What I often think about is not one or the other, but how businesses can drive value realization for customers early in their journey.
Say a customer was satisfied or had their expectations exceeded, but only realized this after services were rendered or once they had reached their goals and outcomes. Though their experience could be summed up as a good one and they were most likely pleased with every touchpoint, something to consider is how quickly the value was realized. Did the customer realize they were getting a value exchange for their time and money? No matter the cost of what they were expecting to achieve, did the value outweigh it? If the answer is yes, then perhaps that customer will continue to seek your business as a solution provider. That's what it should be about – getting customers to see in their first interaction with us, all the way to the last one, that there is value exchange taking place. With this realization, they will feel inclined to partner with us whenever a need arises. Simply put, we'll be top of mind.
The Realization of Consistency
Value realization should be consistent. It should never be one-and-done. When I consider customer experience, there is no actual finish line. It is a continuous track that is driven by either the customer or the company, with the other in the passenger seat acting as the GPS navigator. It's like a Formula 1 motor race where cars go around the track for 50 – 60 or more laps, with pit stops along the way. We should be checking in with what the customer needs and requires to succeed. We should know what our customers expect ahead of every turn and throughout the race. Investing in data and predictive analytics is imperative and critical as it helps provide insights turned into actions to deliver a consistent, seamless experience. In fact, taking it one notch higher, prescriptive data-driven outcomes using AI and ML Ops technology at its best is key to unlocking the experience potential in delivering consistent value realization.
The Value of Being Remembered
When a customer realizes the value in their business relationship with you, this causes them to choose you to join them wherever their transformation journey leads next. Ponder how you or your organization wants to be remembered and the thoughts you want to come to mind for your customers. What stories do they tell when they talk about you to their friends or colleagues?
For example, say you are traveling, and your flight gets delayed. Perhaps the delay has been caused by a mechanical issue with the plane. To the airline, this has delayed their plans to get you from your current location to your desired destination. To you, the customer, this has become a disruption to your travel plans. You may need to pay for a rental car if your destination is within reasonable driving distance, or you may even feel a need to request a refund. Perhaps you are thinking of a million solutions to this challenge you're facing, and any peace of mind provided by the airline would be appreciated. That peace of mind never comes. You still have questions, and the challenge is still looming over your head. One thing leads to another and perhaps you're stranded for the night.
Disruptions are not a reason for not providing services. If customers have paid, they expect you to deliver. When delays or interruptions happen on the back-end, customers should receive a customer experience that is uninterrupted on the front-end. Though the services they expect to receive may be disrupted, customers don't want to feel they have been inconvenienced. If they are, part of exchanging value and helping them realize this value should be expressed as an accommodation and a communication, quickly and to ease their mind.
Though a disruption has taken place, a part of value realization is customers feeling that, through it all, they made the right choice. Are you showing that at critical touchpoints? From the first interaction through the last?
Value Exchange, Not Value Transaction
Though value exchange is occurring in every experience a customer has with a business, customer experience is not transactional. Services shouldn't be the only thing a customer is receiving in exchange for their time and money. We should want to have a fiduciary relationship with our customers. A relationship where there is a sense of trust and confidence that we have their best interest at the heart of everything we do for them. That should be at the heart of getting customers to continue to do business with you. As businesses, we must be buckled in with the customer and be on the ride with them, attached to every emotion they may have.
Customer experience should be the thrill and expectation of continued value, not a one-time go around. The focus of every business should always be aligned with the customer journey – everyone in sync, understanding that every role has a part to play in producing value realization.
See how HPE GreenLake edge-to-cloud platform drives customer value realization from start to finish across various industries: Read these HPE GreenLake customer stories.
Learn more about HPE GreenLake cloud services.
Megs Suratkal
Hewlett Packard Enterprise
twitter.com/HPE_GreenLake
linkedin.com/showcase/hpe-greenlake/
hpe.com/us/en/greenlake