For eCommerce businesses looking to expand their global reach today, Denmark is among the most promising candidates to consider. Although its size and population are modest, its strong economy and sophisticated banking, digital, and technological infrastructure give it a solid position in the top 35 global GDP rankings, with a Gross Domestic Product of $355 billion (US) in 2020 and a nominal per capita GDP of $60,494 (US).
Denmark eCommerce: growing potential and challenges
Denmark's dense population has a committed base of urban shoppers, deep internet penetration, and optimal postal and delivery operations, which make it a natural for eCommerce. In 2020, the Denmark's eCommerce market grew more than 30 percent, with over $6 billion in sales, ranking it in the top 30 in the world. At this rate, it seems Denmark is destined to see double-digit growth over the next few years.
Naturally, with tremendous growth and opportunity there are also challenges: Danish shoppers are accustomed to high-quality and proven products, have high expectations for delivery, and are used to shopping from local and global players like Zalando, Elgiganten, and Apple (making up 15% of all online sales) which can make it intimidating for online companies hoping to break in.

To be successful in the Danish eCommerce arena, it's important to be well-versed and ready to accommodate all aspects of the country's business climate, including:
Denmark's unique buying and payment preferences
Local banking and logistical requirements
Denmark's tendency to default to local favorites like Saxo and Nemlig, as well H&M, Amazon and other global retailers.
COVID's impact on Danish eCommerce
Although the COVID-19 pandemic had a negative impact on the Danish economy, resulting in a 2% decrease, their decision to lock down swiftly ultimately had a positive effect on their eCommerce success. In mid-2020, 26% of consumers reported difficulty obtaining goods, which led to significant gains in online sales of grocery, food and beverages, with other categories soon to follow, with an overall 10% increase in online sales.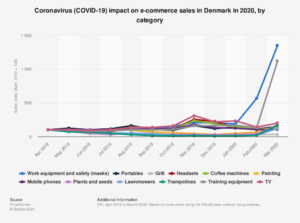 Source: statista.com
Consumer studies have reported that almost 20% of Danish shoppers have switched from brick-and-mortar retail to online shopping since the pandemic began, with a whopping three out of four Danish citizens shopping online and eCommerce making up almost 20% of all retail sales, and expected to only grow more into 2022.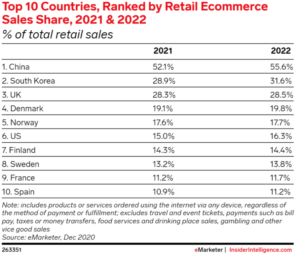 Mobile is the secret to eCommerce uplift in Denmark
Denmark is one of the leading countries in Europe for smartphone and mobile eCommerce penetration, at 86.4% and 45%, respectively. Naturally, this means they are comfortable with—and prefer—making their online purchases with their phones over other devices.
Contributing to this is the growing popularity of retail apps like SHEIN, Zalando, and Coop and the local and convenient payment app MobilePay (Danskbank). With these aspects in mind, any cross-border business looking to expand into Denmark should make optimizing their systems for mobile devices a top priority.
The confluence of Danish high-tech sector growth and B2B eCommerce
Denmark, particularly Copenhagen, has become a new center for startup capital and innovation, with companies like Zendesk and Tradeshift standing out. The country recently was ranked number six in the Global Entrepreneurship and Development Institute's Global Entrepreneurship Index.
This can only mean good things for cross-border merchants looking to capitalize, especially in the B2B arena – as 24% of Danish B2B enterprises are already doing eCommerce, Denmark is second only to Iceland in Europe in terms of large companies selling online.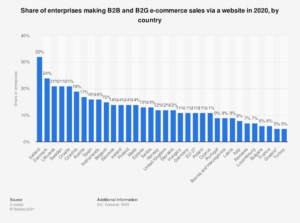 Source: statista.com
Software market growth offers potential to sellers in Denmark
Software in Denmark saw a year-over-year increase of almost 6% between 2016 and 2020, with $3.4 billion in sales last year, and it's expected that it will continue to grow and hit around $5.5 billion by 2025. For SaaS, this is extremely good news and yet another reason to pursue cross-border opportunities in Denmark.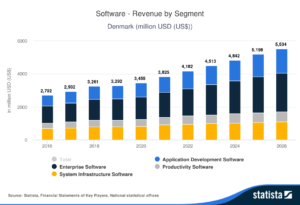 Source: statista.com
Danish shoppers have diverse shopping preferences and favor subscriptions
Most online shopping in Denmark is concentrated in fashion, media, furniture and appliances, and food and personal care. About 30% of their online spending is for fashion, 29% for electronics and media, and almost 20% for toys, hobbies, and DIY, for example.
Danish consumers love to browse on their mobile devices and via social media channels. There is also a growing appetite for subscriptions, which currently make up 21% of Denmark's eCommerce revenue, with video and music streaming, transport, and fitness services leading their preferences.
About 55% prefer monthly renewals (although annual renewals are also a strong option that should be offered), and the average annual renewal rate is around 78%, according to customer data from 2Checkout (now Verifone).
Selling Online in Denmark
Online payment methods in Denmark reveal the country's preferences, and cash is not one of them—merchants looking to get the attention of Danish shoppers should plan to offer numerous payment methods. Over 60% of online transactions are currently credit or debit payments, with 23% for digital wallets, where MobilePay leads. Still, over 60% of payments are made via Dankort.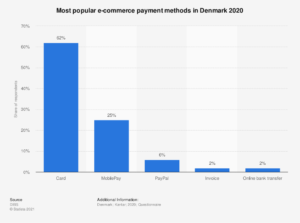 Source: statista.com
Dankort, clearly the dominant payment choice in Denmark, is complemented by Danske Bank, Nordea, and Handelsbanken, which are also Danish favorites, as well as PayPal and other, more novel biometric methods.
Delivery matters to Danish shoppers
Denmark prides itself on its postal and delivery expertise and efficiency, and their expectations for their own online purchases are comparable. They may not expect same-day delivery, but next-day is preferred. More than that, and domestic sellers or companies like Amazon, with local distribution centers, may win out.
Don't forget privacy, cybersecurity oversight, and VAT
It is important for cross-border merchants to keep in mind that Denmark is a member of the European Union, and therefore subject to General Data Privacy Regulation (GDPR), which was officially implemented in May 2018. Denmark's Danish Business Authority and Centre of Cybersecurity oversees cybersecurity, cookies, and telecommunications. These agencies also publish their own guidance on data security for organizations.
In terms of taxation, merchants selling in Denmark are not required to collect VAT unless they reach or exceed yearly EU wide sales of €10,000 (~$11,000 US). After they reach that level, however, merchants must either register with the Danish tax authority or, if they sell to customers outside Denmark, they may register in the One-Stop Shop (OSS) system, a voluntary platform that establishes a single account for handling taxation across all EU member states (the registration may be done in the merchant's home country).
To learn more about making the move to selling in Denmark, read our eBook "eCommerce in Denmark" and discover the prerequisites needed to achieve success in this Nordic country.