Just because Maker Faires, conferences, and summits have been cut down to a minimum doesn't mean you can't continue to expand your circle of like-minded maker friends. Here are a few suggestions for folks that you may want to follow (if you aren't already).
One of the best parts of our community of makers has always been just that – the community. Not just traveling to events to see the latest and greatest that companies had to offer, but to get together with old maker friends, meet new ones, and to talk, laugh, share ideas and drinks; we had opportunities to really know that we were a part of a great collective. The past two years, those communal events that we love have all but disappeared, but our sense of community and the desire to connect still exists. Now is a great time to digitally find new members of our community, follow them, connect with them, create a wider group of peers and friends, and give ourselves that much more to look forward to once we get back to IRL events.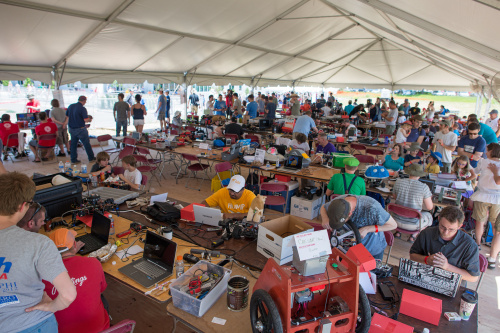 The competitor's tent at the SparkFun Autonomous Vehicle Competition was always a favorite maker's meeting place.
I've put together a list of makers and engineers that I've only met online, but am really looking forward to meeting at a gathering in the future. This is a very short list, and you may already know most or all of them. May they inspire you to look further, see who they're connected with, and expand your circle of maker connections. So here, in no particular order, are…
MAKERS YOU SHOULD KNOW
Earlier this year, we worked with Allie (@GeekyFayeArt), an amazing artist in multiple mediums. They wanted to be able to add electronics to their already impressive array of skills, and it'll be exciting to see what they turn out in the coming year.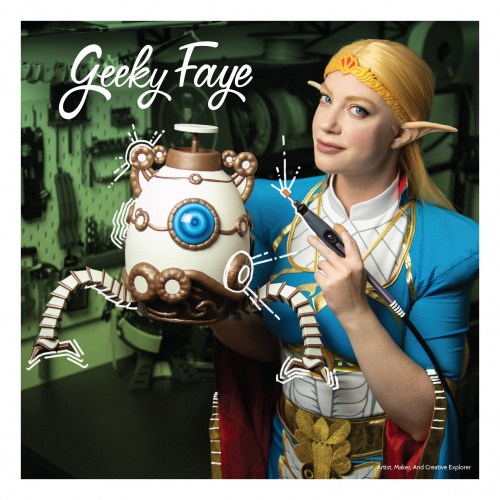 Allie (aka GeekyFayeArt) is a multidisciplinary artist who is now adding electronics to their creations.
Billie Ruben (@BillieRubenMake) is another great person to follow. An amazing maker based primarily in costume, couture, and 3D printing, Billie's superpower is her altruism. She hosts a youtube channel that focuses not just on what she does, but also on other makers. Her "Meet a Maker" series allows her to have "chats with cool peeps who make things", and helps bring more awareness and support to other makers in the community, elevating the maker community as a whole.
Another great maker is @HannahMakes. She describes herself as a "Maker of frivolous things. Teabag dunking robots, shoes that call you an Uber." You know, the usual stuff. Her builds are always solid and creative, and her videos are a joy to watch.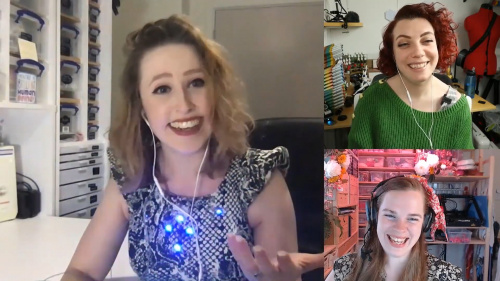 A triumvirate of talent: Hannah and Allie join Billie for one of her Meet a Maker episodes.
Danielle Boyer @danielleboyerr is another maker whose altruistic side matches her maker side. A great young educator, activist, and inventor, Danielle is the founder of The Steam Connection, a nonprofit organization dedicated to getting technology into the hands of young people who historically have not had access to it, with a focus on education and opportunities for indigenous youths. She has been named both a 2021 MIT Solver and a 2020 L'Oreal Paris Woman of Worth for her work.
A roboticist you probably know by now, thanks in part to his recent cover appearance on Make Magazine, is Jorvon Moss. @Odd_Jayy is a self-taught roboticist from Compton, whose continuous stream of mechanized eyewear and companion bots are as beautiful as they are technologically impressive.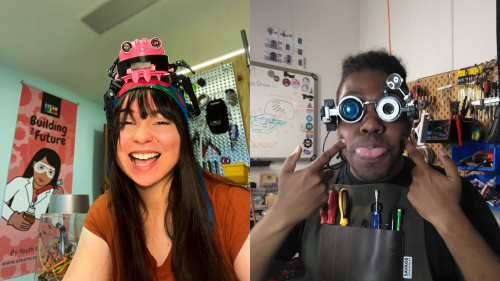 (L)Danielle Boyer wearing a Jorvon Moss original. (R)Jorvon Moss also wearing a Jorvon Moss original.
If you want a glimpse into the future of STEM/STEAM, look no further than @STEMillie_. An aspiring scientist and engineer, Millie has a penchant for cars and power tools, and continues to be an inspiration to girls in STEM everywhere.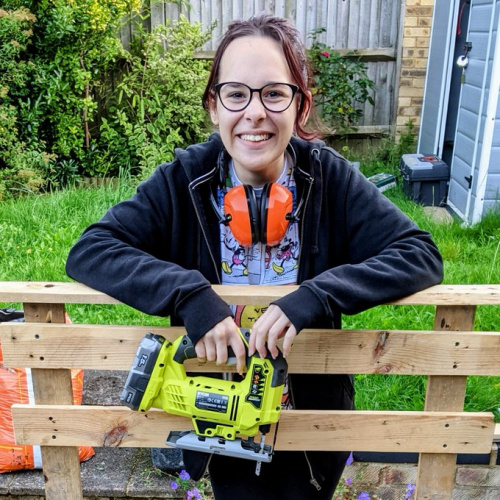 One of the great up-and-coming #GirlsInSTEM, Millie's ebullience and passion for STEM are clear in everything she does.
If you're more STEAM leaning, wanting to make sure there's art in your STEM, two more of my favorites are Debra @GeekMomProjects and Mohit @MohitBhoite. Debra, a technophile and lateral thinker, believes that LEDs improve everything, and she had an expansive show of projects to back up her claim. She's also designed a beautiful necklace clasp/battery holder that uses magnets to keep jewelry connected and powered. Mohit is as much a sculptor as a coder, and his medium is wire. He uses wireframe not only for the circuitry of his builds, but for the structure as well, and the results are beautiful.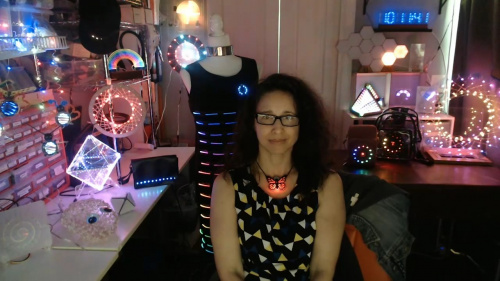 Debra (@GeekMomProjects) surrounded by some of her amazing blinky creations.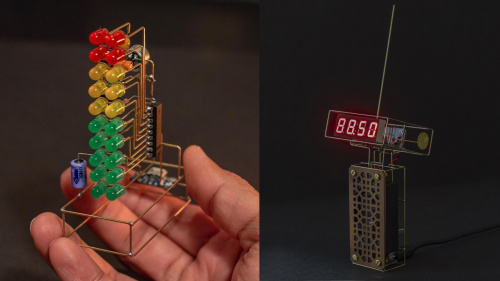 Mohit Bhoite's (@MohitBhoite) precision wire bending creates the perfect union of form and function.
AND FOR THE KIDS
If you have young ones who are interested in STEAM/STEM, there are a few folks I can definitely recommend, as the bulk of their work is designed to teach, inspire, and engage kids. @BrownDogGadgets uses a lot of paper circuits, bristlebots, and interactive circuits that offer kids simple designs that they can create (usually with an adult) quickly and easily. Even the more advanced builds, like the singing Christmas Tree, use a micro:bit for control, keeping it simple enough for kids to build and program.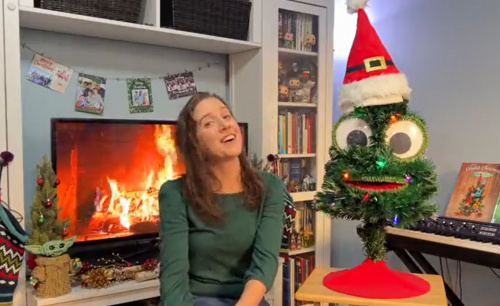 With projects aimed at a younger crowd, @BrownDogGadgets keeps their builds as engaging as they are informative.
Another great resource to follow to get or keep kids excited about STEM is @KidsInventStuff. Helmed by the amazing Ruth Amos @RuthAmos and Shawn Brown @ShawnMakes (two more people you should definitely be following), these two incredible engineers and inventors take a different tack to get kids excited about STEM/STEAM. At Kids Invent Stuff, Ruth and Shawn issue challenges to kids, with specific parameters, although the parameters are usually pretty flexible. As an example, the current challenge is a Winter Invention Challenge. The only real design rule for this is that it has to have something to do with winter – something that will keep you warm, something that makes spending time out in the winter weather more fun, pretty much anything winter-related. Kids of all ages send in ideas and drawings, and these two makers set about creating the winning idea. From a sneeze-activated flamethrower helmet to a bike that feeds you cake as you ride, these builds and accompanying videos are always a joy to watch, for both kids and adults, and always keep children excited about technology.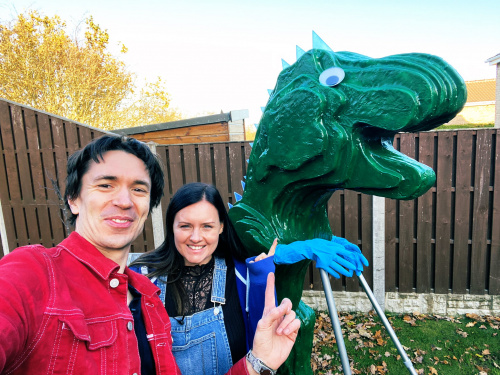 Ruth and Shawn from @KidsInventStuff in front of one of their builds, a dinosaur robot that cleans your floors!
This is such a cursory list, but it's a starting point. There are so many others that you should check out, too. @glowascii, @witnessmenow, @sophywong, @BlitzCityDIY, and @KittyArtPhysics are just a few that come to mind. Check them out, follow them, support them, see who they follow, and if any of those connections speak to you, follow them too. But above all, keep this in mind: When a maker starts sharing their projects online, they are sharing a part of themselves, and with that comes a certain vulnerability. Choose your words and your comments wisely and with kindness. I guess what I'm really trying to say is be nice, and happy hacking!