In this blog article, I share the podcast episode looking at colos and HPE GreenLake. Joining me was Malcolm Ferguson, a

Distinguished Technologist with HPE. Malcolm used to work for a colo and was the perfect person to join the podcast to shed light on colos and HPE GreenLake. 
Here's the episode of Around the IT Block
Here's what Malcolm and I discussed:
Here's what was discussed:
00:00-01:50 Introduction
01:50 – 3:50 What is a Colo and what is a REIT? 
03:30 – 08:30 What are the advantages of a colo? Evolution of HPE moving from 85 owned datacenters to colo for HPE IT. 
08:30 – 13:50 Why a colo with HPE GreenLake? Customers that are "repatriating" applications from public cloud. 
13:50 – 15:30 Moving away from a "cloud-first" strategy and looking at workloads-first, availability-first. 
15:30 – 17:30 The pricing of HPE GreenLake in a colo is ALWAYS cheaper than public cloud.
17:30 – 20:30 When should customers be using public cloud? 
20:30 – 23:30 Rethinking cloud first and moving to hybrid cloud with HPE GreenLake.
23:30 -26:00 HPE GreenLake with colo is "green" and wrap-up.
More on colos and HPE GreenLake
Here are a few previous blog posts that talked about colos, including the first one below that Malcolm wrote: 
Here's some other related information:
Talk, talk, talk
Lastly, I want to talk a bit more about my podcast. At the beginning of the year, the name changed to Around the IT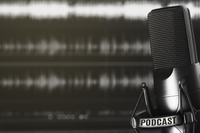 Block. But another huge shift happened in October – it's now an official HPE podcast. You can find it on lots of different podcast platforms like iTunes, Google Podcast, Amazon Music Podcast, Spotify Podcast and several others. It also just got it's own hpe.com home at hpe.com/dmn/ATITB. 
I have a couple of other HPE GreenLake episodes that you can find below:
About Calvin Zito 

I'm Calvin Zito and November 2021 marked 38 years with HPE.  I was recognized as a 11 time VMware vExpert. As an early adopter of social media and active participant in communities, I've blogged for over 13 years. My Around the IT Block podcast is now an official HPE podcast. You can find ATITB at hpe.com/dmn/ATITB. Subscribe and listen from here. You can find me on Twitter as @CalvinZito. You can also contact me via email. 
Calvin Zito
Hewlett Packard Enterprise
twitter.com/HPE_GreenLake
linkedin.com/showcase/hpe-greenlake/
hpe.com/GreenLake